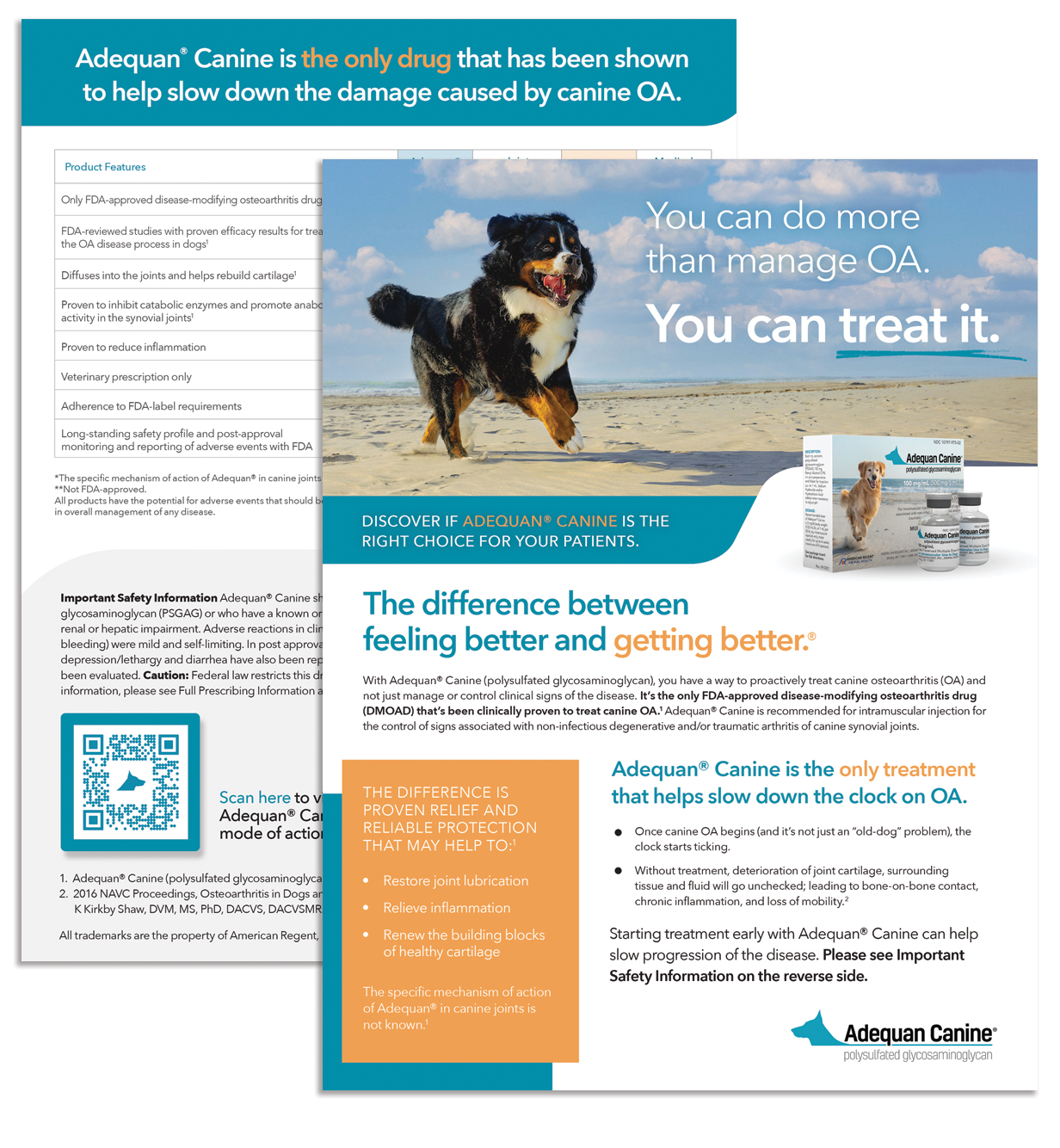 FEATURES-BENEFITS EDUCATIONAL FLYER
This 2-page flyer can be used to help you discuss the primary features and benefits of using Adequan® Canine (polysulfated glycosaminoglycan) for treating canine osteoarthritis in dogs with your team and your pet parents. The difference between feeling better and getting better.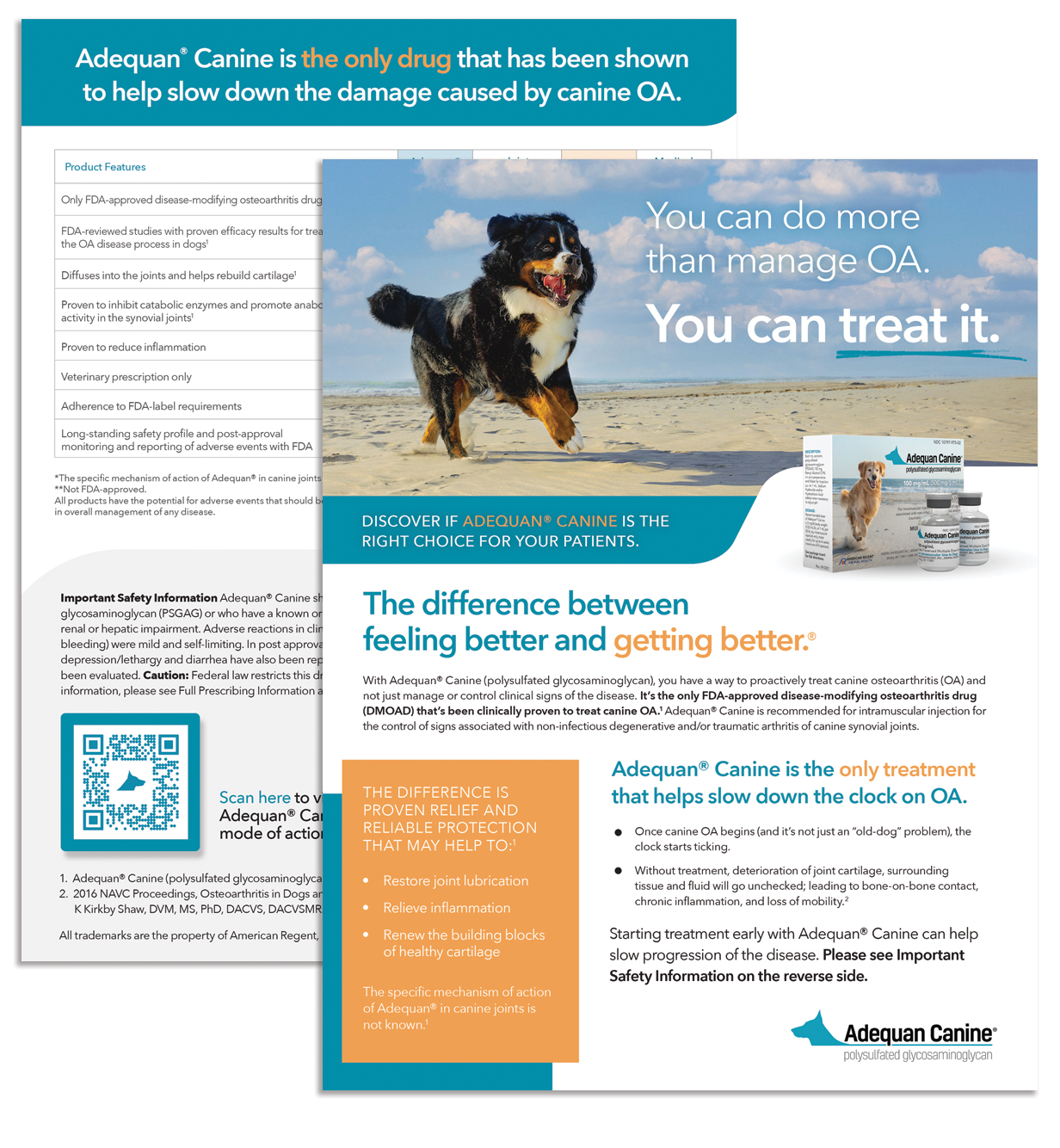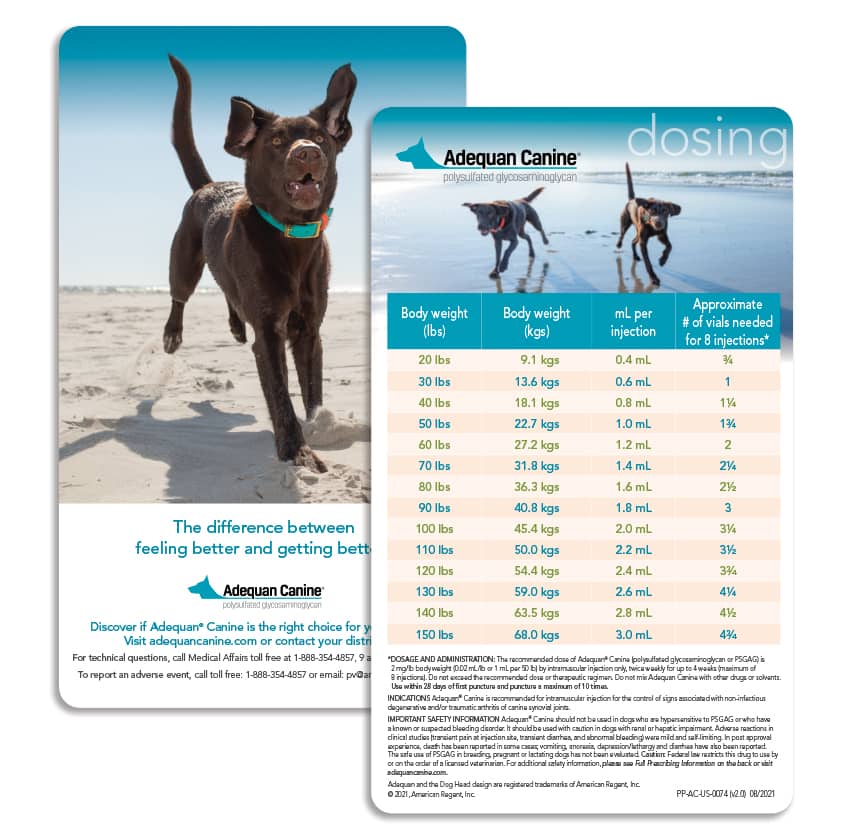 These 6×10, quick reference cards provide complete Dosage and Administration with Body Weights chart. Post near product inventory or keep on hand in exam rooms.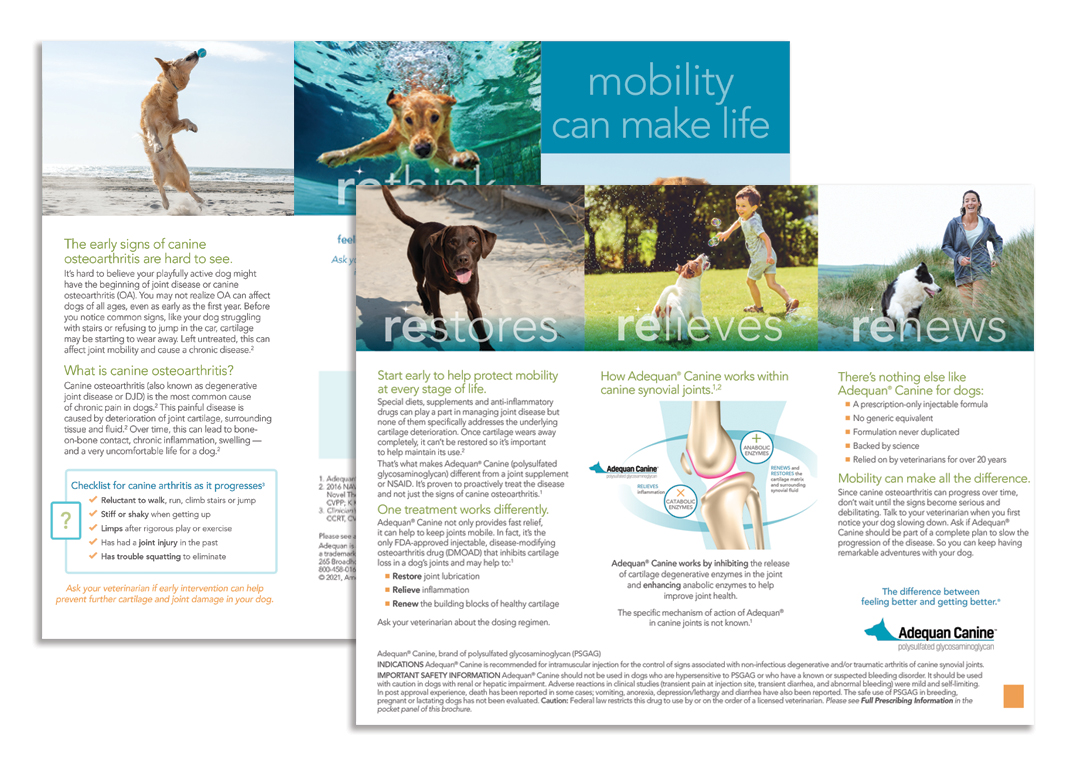 These 4×9, 6 page, 4-color brochures give clients a look at the early signs of canine osteoarthritis and why it's important to start early to help maintain joint mobility. They are wrapped in packs of 25.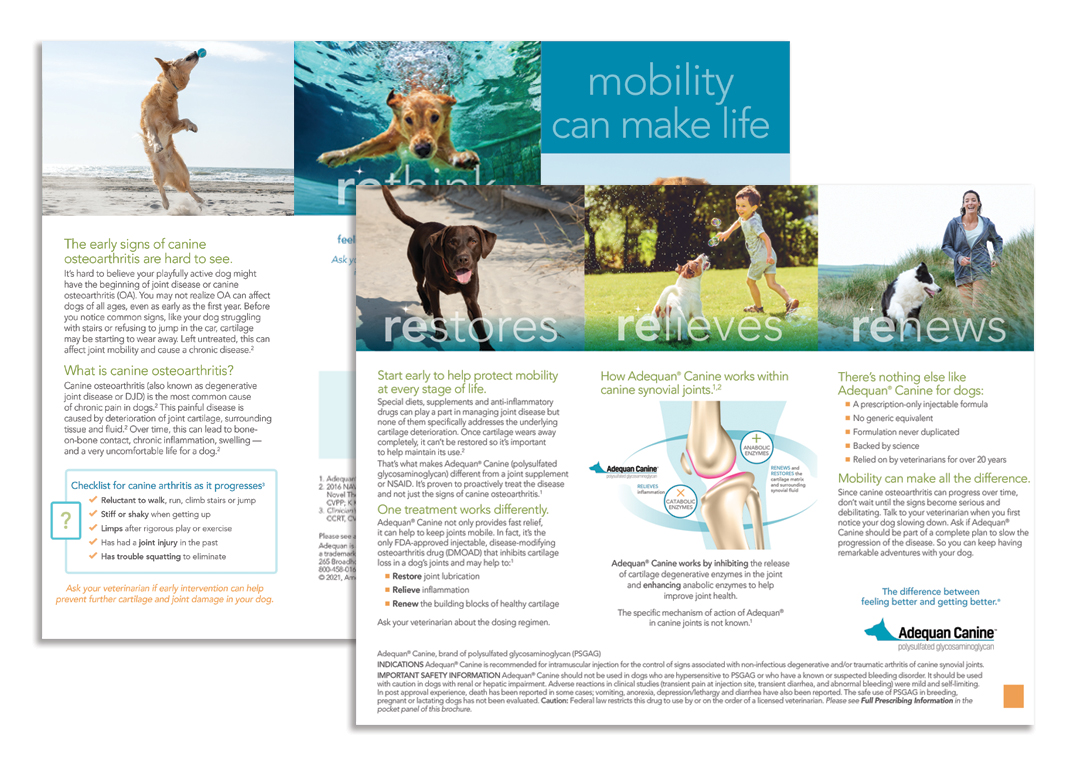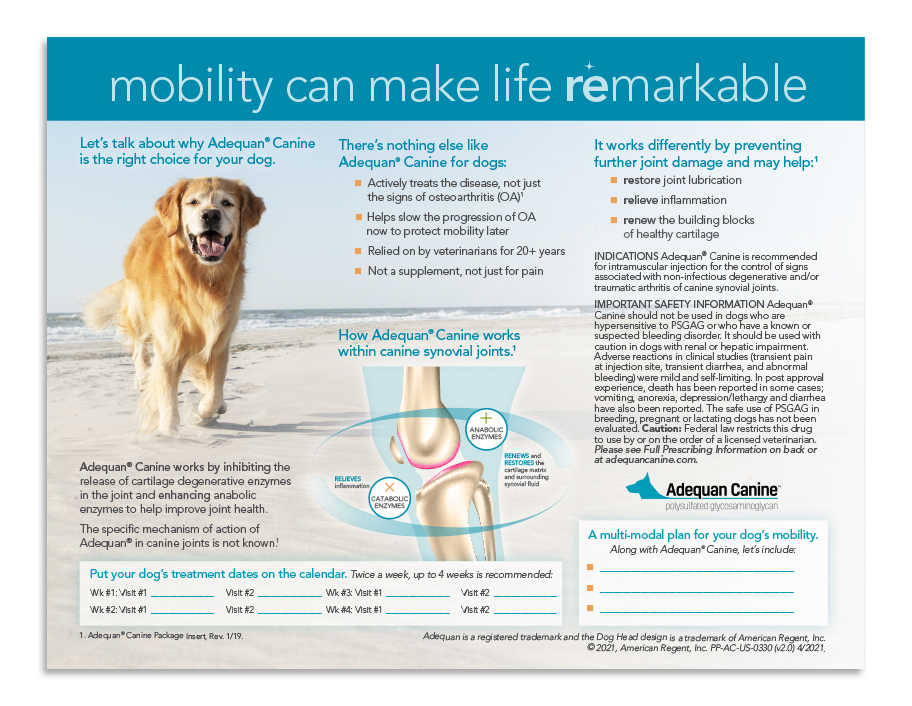 This take-home, 8.5×11 sheet can help guide discussions with clients about your recommendation of Adequan® Canine. Includes fill-in-the-blank boxes to outline treatment and multi-modal plans for their dog. Delivered in pads of 50 sheets.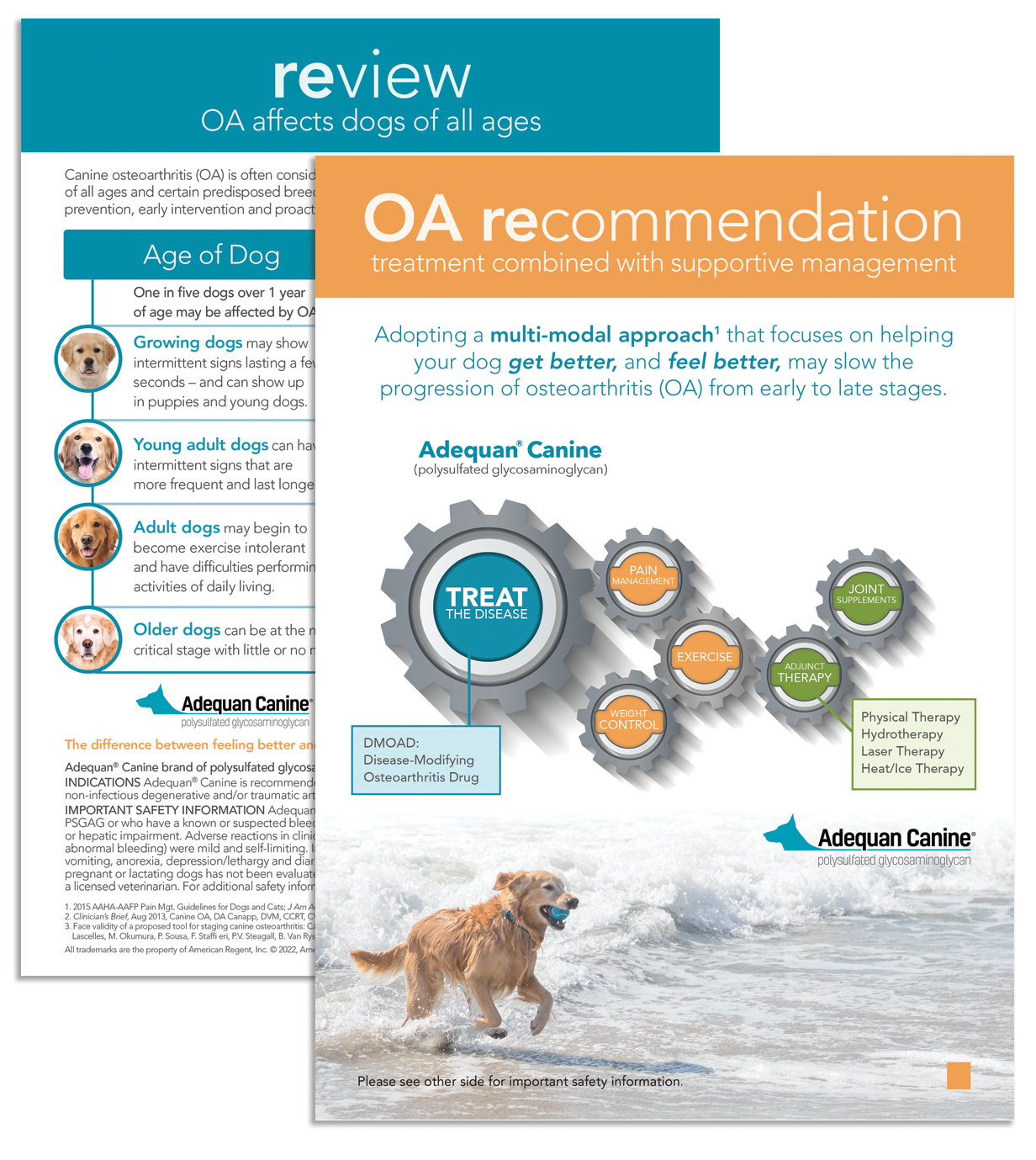 EXAM ROOM EDUCATIONAL TOOL
Guide your exam room conversations about canine osteoarthritis with clients using this 8×11 card. Use it to help explain your multi-modal treatment recommendation and share insight on the ages and stages of the disease.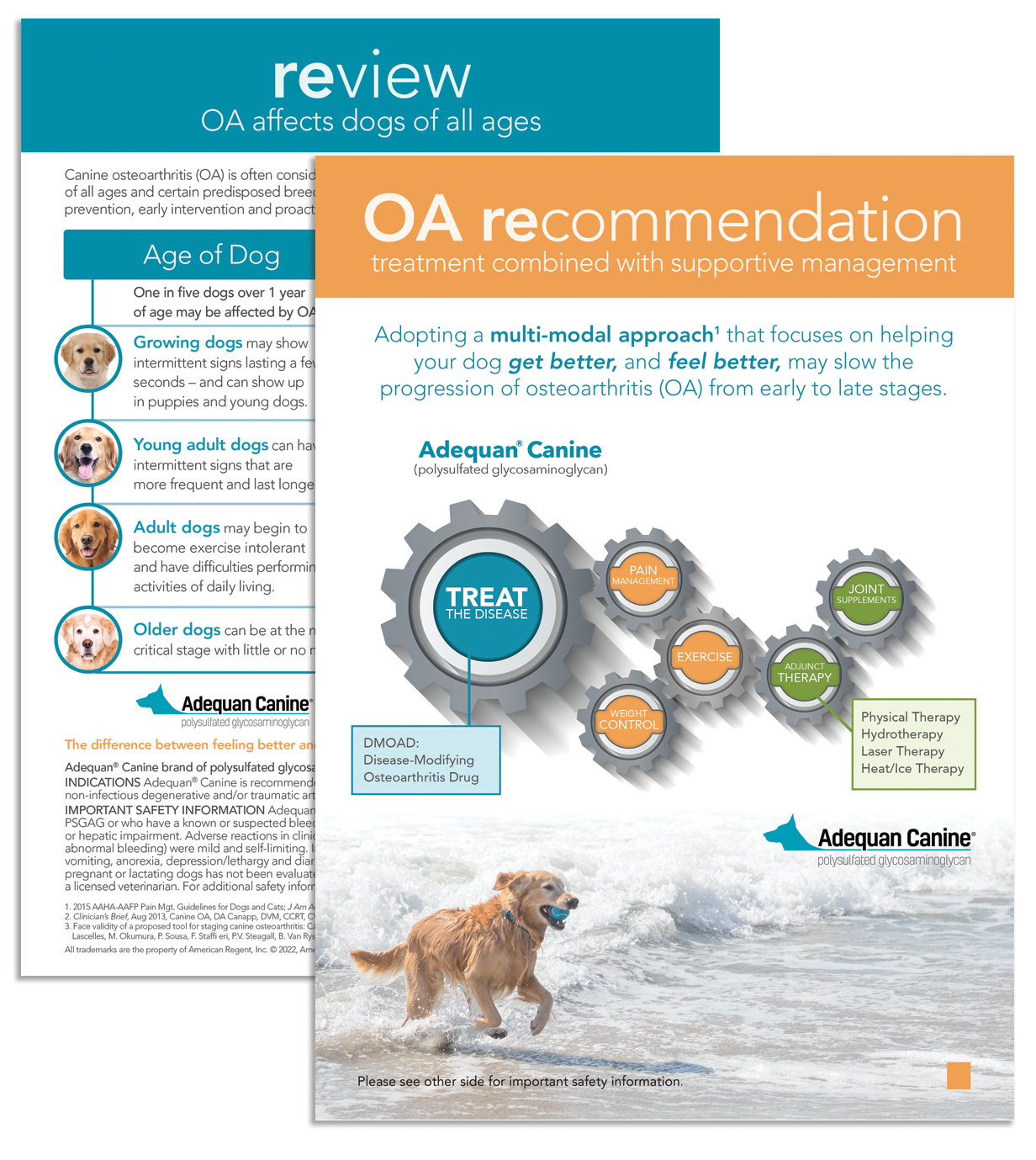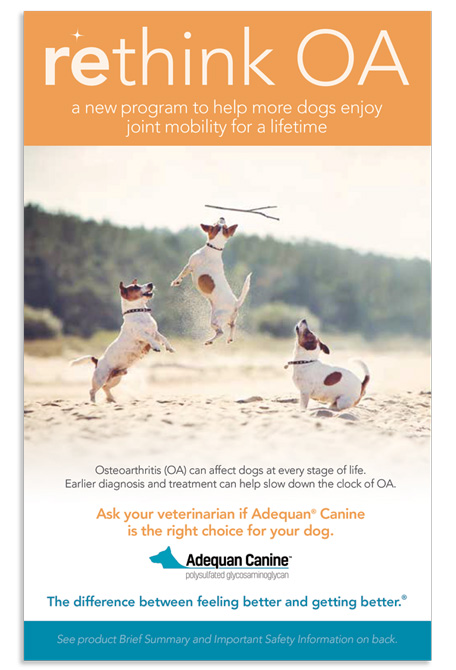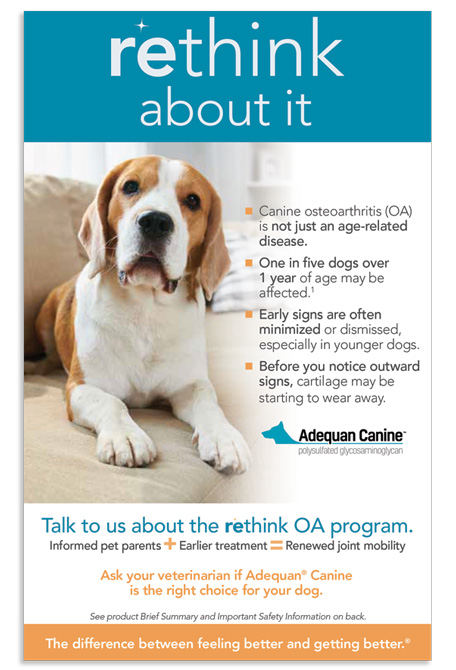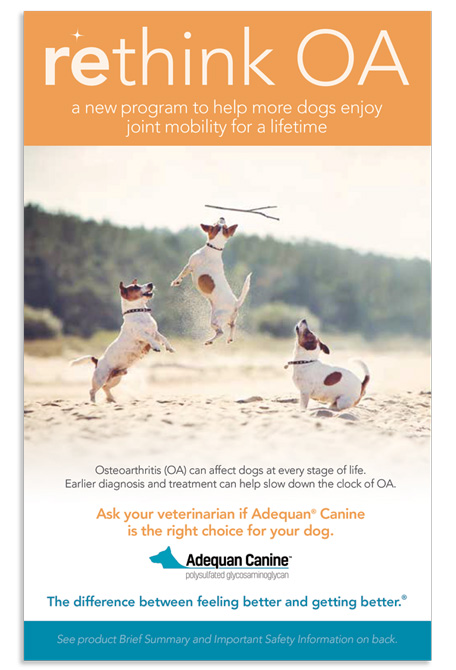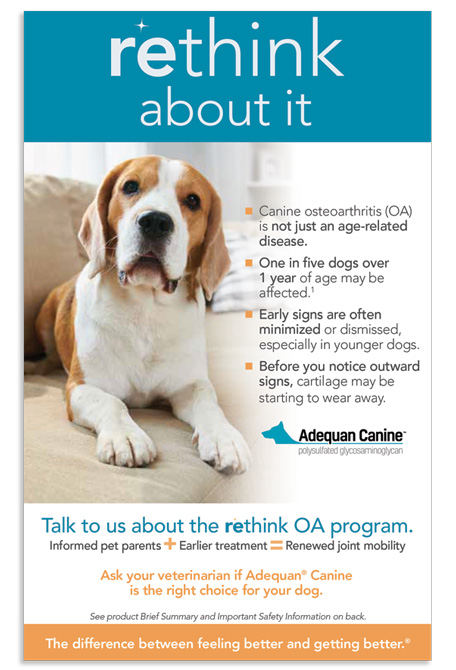 Place in a visible area to motivate clients to proactively ask about canine osteoarthritis and get them to rethink some of the common assumptions about the disease.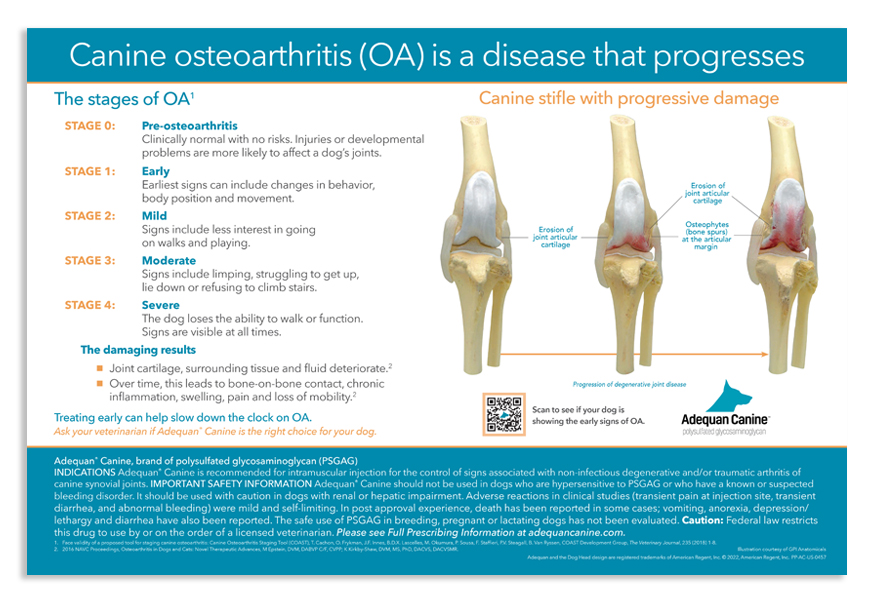 Educate and inform your canine clients about the challenges canine osteoarthritis can create when left untreated. This easy to hang, repositionable, 18×12 poster cling can help drive the conversation where it's needed.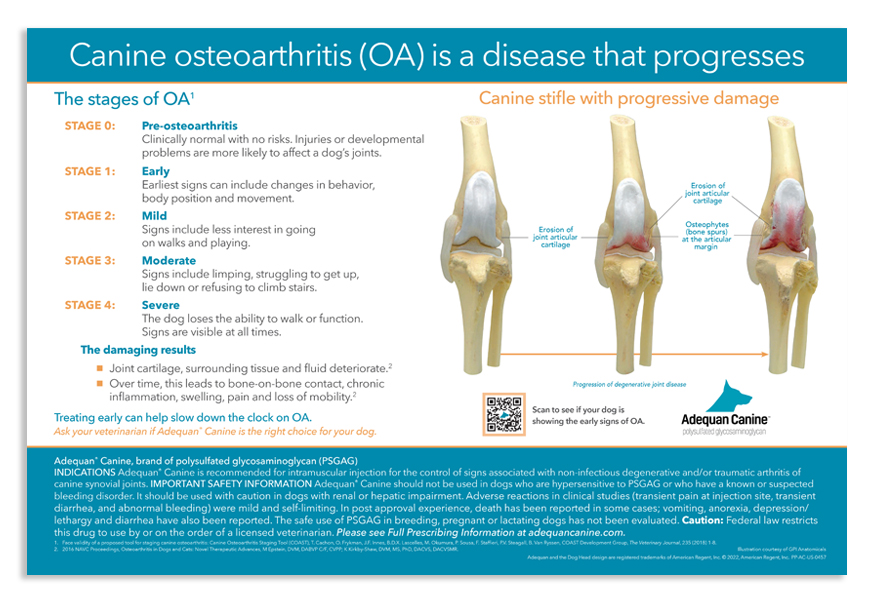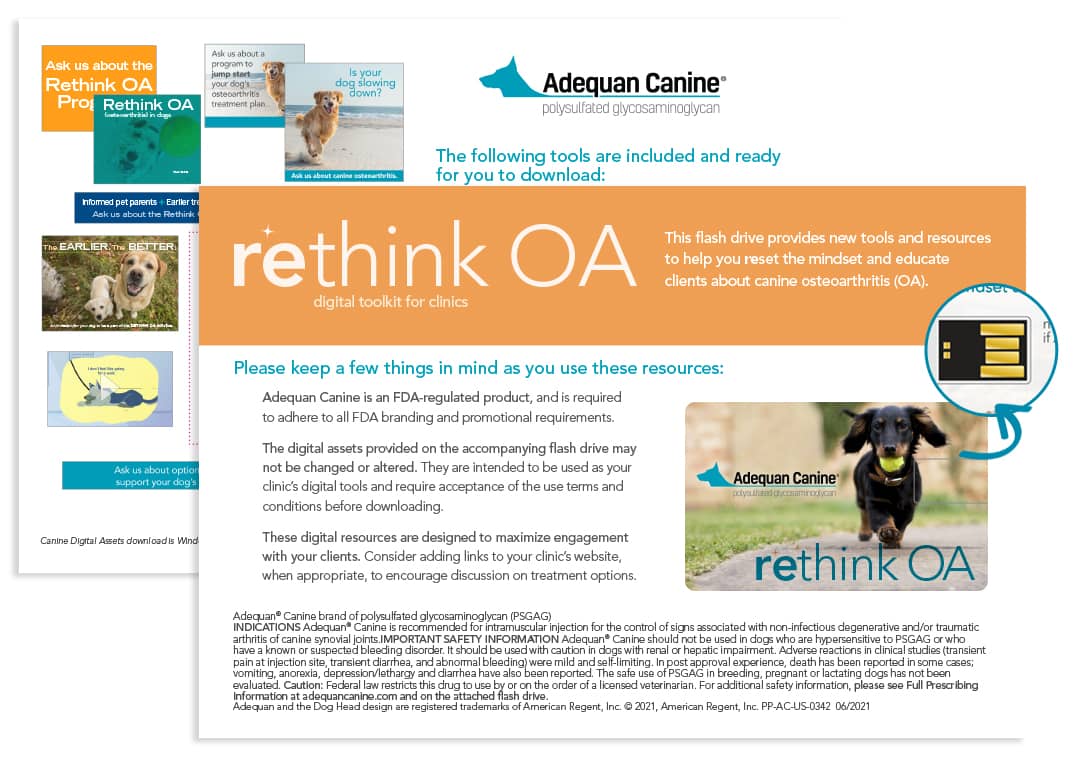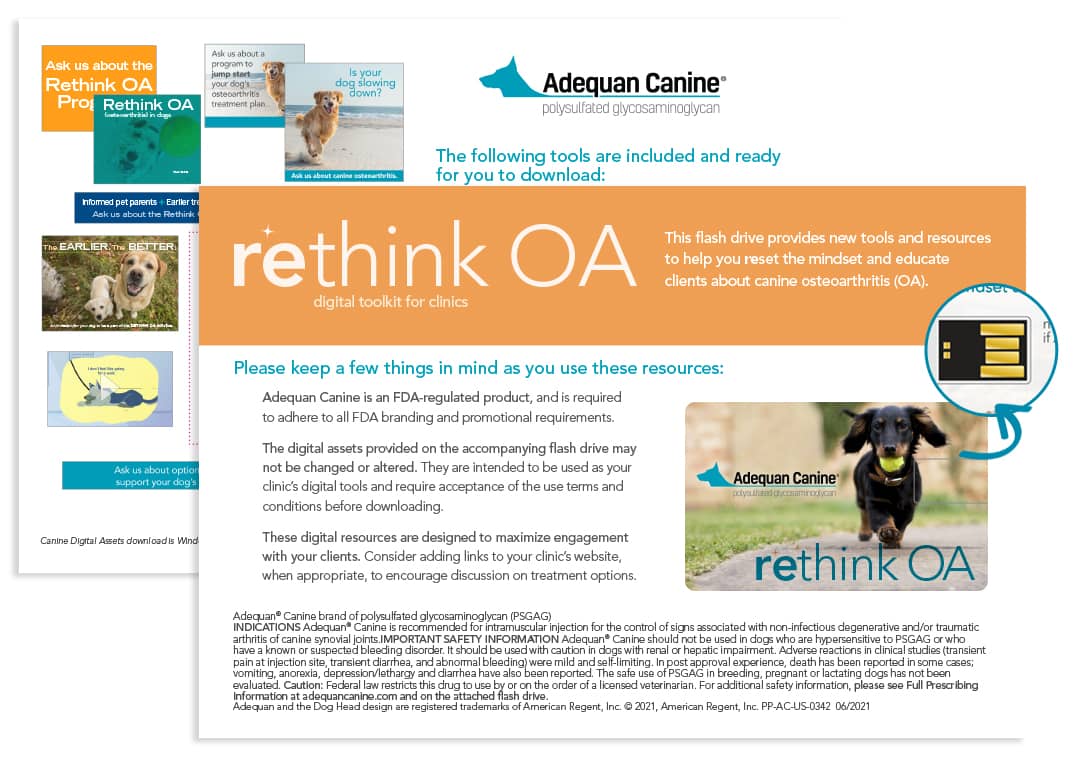 USB DRIVE WITH DIGITAL ASSETS
Help change your pet owner's thinking on OA, by sharing the rethink OA effort across your digital and social media channels. Educate and motivate clients with these ready-made assets for your website, e-newsletters, Facebook and Instagram. Small bytes to get clients to rethink OA, reach out and drive visits.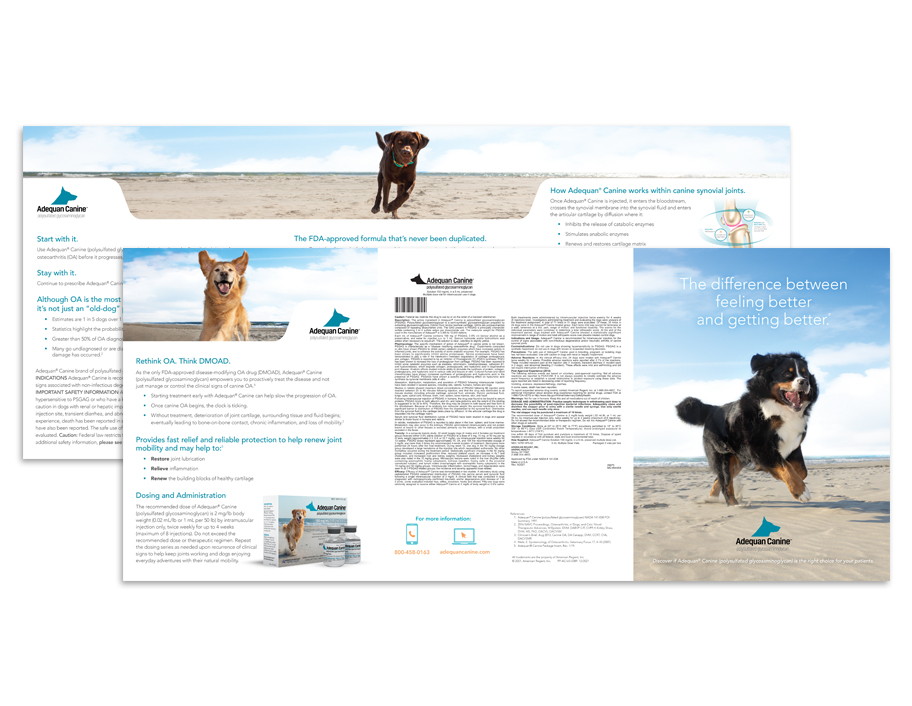 This 8.5×11, 6 page, up-to-date detailer includes a benefits chart, How Adequan® Canine Works graphic, clinical research information and Full Prescribing Information to help educate you and your staff.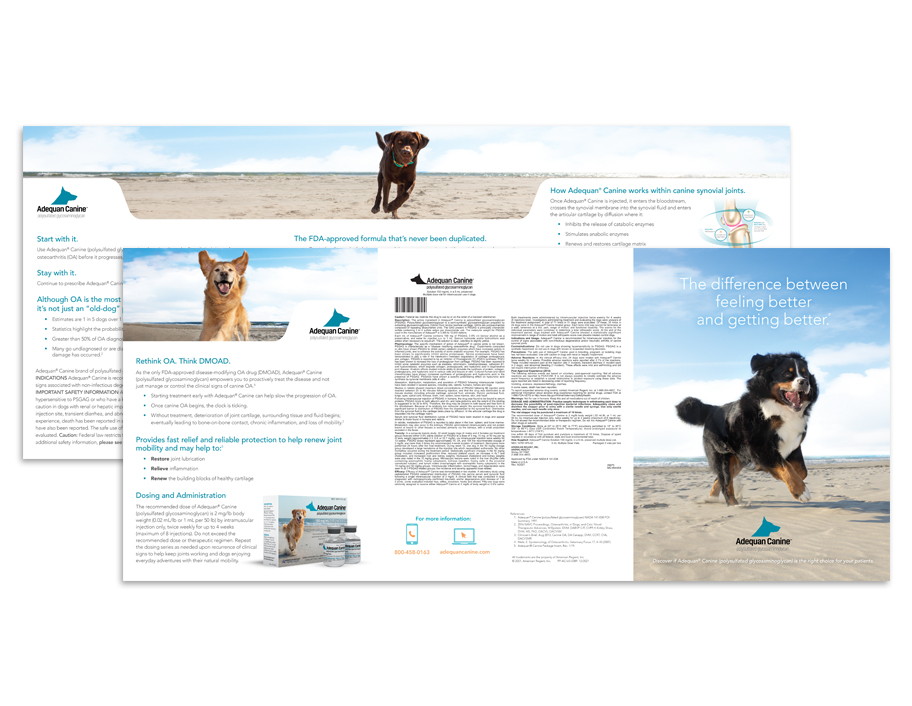 Adequan and the Dog Head design are registered trademarks of
American Regent, Inc.
5 Ramsey Road, Shirley, NY 11967 /

1-800-458-0163

/
cs@americanregent.com
© 2023, American Regent, Inc.
PP-AC-US-0099 (v6.0)

07/2022